Our tradition began in 1964 when Gary K. Hobbs opened a full-service drug store to provide the astronauts, engineers, and their families who would land a man on the moon the medicine and services they needed. Along with his wife, Patricia, and their four children, Mr. Hobbs' pharmacy was poised at the dawn of aeronautical history. The Apollo Mission brought together some of the greatest minds and adventurers of our time. Gary remembers well the astronauts' wives coming to visit the store to calm their nerves while their husbands were in space!
As the space program, NASA, and Merritt Island grew, so did Hobbs pharmacy. The pharmacy thrived with the influx of professionals and retirees moving to the lush surroundings of coastal Brevard County, Florida. And Hobbs remains committed to the community which supported us through those years.
After 25 years of service, Gary passed the reins to his son Mark Hobbs who would continue the tradition established while he was just a child. Mark would streamline the operation and diversify the store to include infusion therapy services, medical equipment, compounding and consulting services. At the sametime our personal commitment to the customer has remained our core business philosophy and everyday practice.
In the fall of 2009 Hobbs Pharmacy renovated and expanded.
Hobbs is an exceptional example of a thriving independent pharmacy in a world of corporate consolidation. By proving ourselves as a leader in pharmacy and community service, Hobbs can provide services no chain-store is able or willing to offer its customers.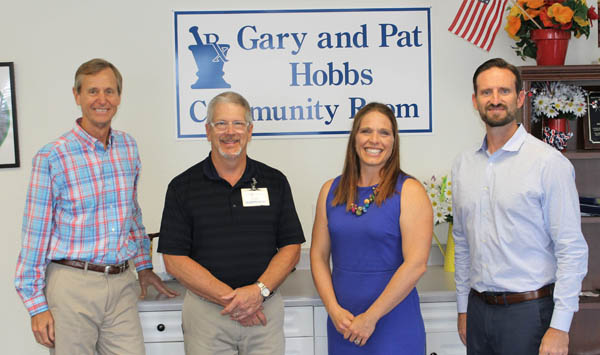 Compounding Services
Hobbs Pharmacy offers a wide range of both sterile and non-sterile commpounding services. To learn more about our compounding services click the arrow to expand each section below. Please contact us with any additional questions about our compounding lab and formulations - 321-452-0010.
What is Compounding?
We are proud to offer pharmacy's oldest tradition: prescription compounding. Compounding combines the ageless art of pharmacy with the latest medical technology. It allows trained compounding pharmacists and technicians to prepare custom medications to meet each patient's individual needs. Preparation of specialized medications required chemicals and equipment not available in most pharmacies.
Our "problem solving" compounding pharmacists work with the patient and physician to understand each patient's (human or veterinary) individual needs. We are then able to compound medications that specifically address these needs. With our compounding service we can offer treatments and dosage forms that are otherwise unavailable commercially. We can compound a wide array of creams, ointments, suppositories, suspensions, transdermal gels, injections, sublinguals and capsules to aid the physician in providing the medication the patient needs in the most effective dosage form.
Hormone Replacement Therapy
WHAT IS BIOIDENTICAL HORMONE REPLACEMENT THERAPY?
Bioidentical Hormone Replacement Therapy (BHRT) is a prescription alternative to conventional hormone replacement therapy (conjugated estrogens, medroxyprogesterone, etc.) Bioidentical horomes are derived from natural plant compounds and synthesized to the exact structure and function as the hormones produced within the human body. Since every patient has different needs, Hobbs Pharmacy is able to adjust strength, mode of administration, flavors, fillers, etc to fit the needs of each individual patient.
SEVERAL TYPES OF HORMONES COMMONLY PRESCRIBED FOR BHRT:
Estrogens - a family of hormones (Estradiol, Estrone, Estriol) that are necessary for maintaining the health of the femaile reproductive organs and tissues as well as the breasts, bones, skin and brain.
Estradiol (E-2) - the most potent naturally occurring estrogen in mammals. Estradiol is formed by the ovaries, placenta, testis and possibly the adrenal cortex. Estradiol is used in the treatment of menstrual and menopausal problems.
Estrone (E-1) - a metabolite of Estradiol commonly found in the urine, ovaries and placenta. Estrone has considerably less biological activity than the parent hormone. It is also known as follicular hormone.
Bi-Est - a standard estrogen combination of 80% Estriol and 20% Estradiol. Other ratios can be compounded per request.
DHEA (dehydroepiandrosterone) - the principle androgen in men and women. DHEA is produced by the adrenal glands and metabolizes into testosterone and estrogens. DHEA influences bone density, energy, stamina, mood, mental function and immune function.
Pregnenolone - a steroid that serves as an intermediate in the biosynthesis of hormones, including progesterone and DHEA.
Progesterone - a hormone produced by the ovaries upon ovulation. A precursor to most of the steroid hormones, it has many vital functions, from maintaining pregnancy to regulating menstrual cycles. Progesterone has calming and diuretic properties and enhances the beneficial effects of estrogens while preventing problems linked with estrogen excess.
Testosterone - an anabolic hormone that is involved in maintenance of lean body mass, bone density, skin elasticity, sex drive and cardiovascular health in both sexes.
WHAT ARE THE GOALS OF BHRT?
Reestablish the individual's hormonal balance
Provide protective benefits that were originally provided by the body's naturally occurring hormones
Alleviate symptoms caused by a natural or surgical decrease in hormones
Veterinary Compounding
From dogs and cats ... to birds and bunnies ... to prairie dogs to horses ... to dolphins and elephants ... animals often present unique medication challenges. While commercial preparations meet the needs of many of your patients, some patients, or their owners, need a more convenient or accurate method of administering their medication. Our pharmacists and technicians receive specialized training that allows them to adjust the strength, mode of administration, flavors, fillers, etc to fit the needs of each individual patient - whether that patient is a cat, dog, bird, ferret or even a horse!
The goals of veterinary compounding are three-fold: to provide medication in the ideal size, strength and dosage form; to improve compliance by making administration of medication easier and more pleasant for both the animals and their owners; and to improve the availability of medications, including those medications withdrawn from the market. Hobbs Pharmacy prepares custom compounds for patients to meet those needs as well as: to provide medications that are gluten and casein free; to prepare medications for chemically or environmentally sensitive patients who cannot tolerate dyes, preservatives, allergens or fillers; and to combine ingredients/therapies.
Often time the biggest challenge facing veterinarians and owners is not deciding the most appropriate treatment but rather getting the medication into the animal in a way that does not cause more harm than good. By making the dosage form easier to give or more palatable for the patient, we often solve these problems. Examples of common dosage forms include:
Oral Liquids and Solutions which are made with various flavors including beef, liver, chicken, peanut butter and fish. Flavored gels can also be made with cheese, fish and even apple.
Topical PLO Gels which are highly concentrated transdermal formulations often used in felines. They are applied to the inner ear and rubbed in.
Chewable Treats flavored with tuna, chicken, beef or liver, as well as dried fruit for gerbils and rabbits. Treats can be used in felines or canines and are round solids in which medication is evenly dispersed throughout the treat.
Ophthalmic Ointments and Solutions can be compounded to treat a variety of veterinary needs, including fungal ulcers in horses.
Injectables such as commercially available chemotherapy agents are also available.
Hospice/Palliative Care
Palliative Care is "the active total care of patients whose disease is not responsive to curative treatment." The goal of palliative care is the achievement of the best possible quality of life for patients and their families.
Symptom Control involves therapies for nausea & vomiting, dry mouth & stomatitis, excessive pulmonary secretions/death rattle, radiation mucositis and proctitis, and wound care.
In hospice care or palliative care, it is vitally important to relieve as much pain as possible without causing sedation and adverse side effects.
Compounding allows more flexibility for the prescriber to meet the individual needs of each patient. We are aware that hospice patients may have difficulty swallowing. In these cases, we can make trans-dermal gels, which can carry the medication through the skin. We can also make lozenges, suspensions, and suppositories. Combination formulations are also commonly used in hospice care. These combinations help to keep the administration of medicine to a minimum. An example is ABHR gel: it combines ingredients that treat agitation, nausea, and pain.
The following list is just a few of the preparations that we can compound for palliative care. All formulations are customized per prescription to meet the unique needs of each patient. Please call us to discuss the dosage form, medication, and strength which are most appropriate for your patient.
ABHR - gel and suppositories
Lorazepam transdermal gel
Diazepam suppositories
Dextromethorphan - single agent and oral modified release preparations
Haldol transdermal gel
Hydrocodone without acetaminophen
Metoclopramide- nasal spray and suppository
Morphine transdermal
Promethazine gel
PCA Pumps
We work together with prescriber and patient to solve problems by customizing medications that meet the specific needs of each individual. Please contact our compounding pharmacist to discuss the dosage form, strength, and medication or combination that is most appropriate for your patient.
Pediatric Care
We work together with prescribers, children, and their families to customize medications and meet specific needs.
Children pose many challenges when it comes to medication: they may resist having to take a medication, dislike the taste or texture, have difficulty swallowing solid dosage forms, and are fearful of injections.
The limited pediatric market for most drugs may be the leading reason for the lack of investment in drug development for this population by the pharmaceutical industry. Most medications are not labeled for pediatric populations, and when a medication is not approved for use in infants and children, it usually is not available in a suitable pediatric dosage form. Fortunately, our compounding pharmacy is able to help. We can compound oral medications into pleasantly flavored suspensions, solutions, concentrates, freezerpops, "gummy bears" or lozenges, in colors that entice the child to take the medication. A palatable formulation is more likely to improve compliance and minimize spillage or waste during administration. Lollipops are an ideal alternative to "swish and swallow" medications that need to be retained in the mouth for a prolonged period of time. Most drugs can be compounded into transdermal gels that can easily be applied to an appropriate site, such as the child's wrist, for absorption through the skin.
Professional compounding is not just diluting existing medications, or mixing powders with bases. We must consider physical and chemical properties of each active and inactive ingredient in order to prepare an effective and safe customized medication with the desired taste, color, fragrance, viscosity, uniformity, texture, and stability. The efficacy of any compounded medication is influenced by the technique and equipment used in preparing the formulation, the purity and quality of the ingredients, choice of vehicle (base), and proper use of additives such as penetration enhancers.
An Example:
Nausea & Vomiting
Orally administered anti-emetics can be difficult for a nauseated child to "keep down", and rectal suppositories may not be well accepted by children. Even persistent nausea can often be effectively controlled by using a combination of medications tailored to meet an individual's specific needs. Dosage forms include transdermal gels, suppositories, lollipops, and more.
Promethazine (Phenergran) is commonly compounded for topical or transdermal application to treat nausea, vomiting, and vertigo, but this preparation may be used as an antiemetic for cases ranging from chemotherapy to motion sickness. The dose is typically 25mg for adults, and the dose is decreased for children. The gel is applied to an area of soft skin, such as the inside of the wrist or arm, the side of the torso, or the inside of the thigh. For children, doses are often applied to the inside of one wrist, and then the wrists are rubbed together.
Pain Management
Pain management is essential because, even when the underlying disease process is stable, uncontrolled pain prevents patients from working productively, enjoying recreation, or taking pleasure in their usual roles in the family and society. Chronic pain may have a myriad of causes and perpetuating factors, and therefore can be much more difficult to manage than acute pain, requiring a multidisciplinary approach and customized treatment protocols to meet the specific needs of each patient.
Hobbs Pharmacy offers a wide variety of pain management services and products, from simple topical and oral compounds to more complex and sophisticated modalities such as combinations of narcotics prepared in preservative-free solutions for use in implanted Intrathecal Pain Pumps. We work with patients and their physicians to find a solution that best fits their individual needs.
Transdermal Gels:
For many people, traditional oral medications may present problems; swallowing may be an issue, or G.I. symptoms with medications such as NSAIDS may preclude their use. Or perhaps poor circulation, may keep medication from reaching targeted tissues. Fortunately, most medications available in oral forms can be compounded into transdermal gels with one medication or a combination of medications. While our laboratory compounds many single-agent and combination gels, the following formulations are our most popular but don't hesitate to contact us for any questions or formulations:
Ketoprofen with or without lidocaine
BLT -benzocaine, lidocaine, tetracaine
Combinations of Ketoprofen or Ketamine, Gabapentin, Clonidine, Lidocaine, Amitriptyline
ABHR-Lorazepam (Ativan), Diphenhydramine (Benadryl), Haloperidol (Haldol) and Metoclopramide (Reglan)
Other Custom Solutions:
While transdermal gels are our more popular custom coumponds, we provide many other custom solutions, such as:
Capsules-single or combination capsules
Suppositories-anti-emetics or anti-anxiety medications
Injectables-including preservative-free
Sterile Compounding/IV Therapy
Our laboratory can assist your in-patient and/or outpatient pharmacy as an outsource partner for compounded medications. Equipped with a state-of-the-art ISO Class 7 cleanroom suite (anteroom and mixing room), as well as a complement of high-tech compounding elements, our staff can handle the most complex or the simplest compounding need.
Using only the highest-grade USP and NF grade pharmaceutical powders, our pharmacists and technicians use their expertise, combining years of experience with special training in pharmacy compounding, to provide the highest quality end product, including IV antibiotic therapies.
Primary environmental control must provide at least ISO class 5 quality of air to which sterile ingredients and components of compounded sterile products (CSPs) are directly exposed. CSP work environment is designed to have the cleanest work surfaces (horizontal or vertical clean benches [LAFWs], biological safety cabinets, or isolators) located in a buffer area, which is preceded by an anteroom that provides a clean area for donning personnel barriers. Buffer or clean-room areas in which LAFWs are located are to provide at least ISO class 8 air quality.